Wintergreen
I could never drink root beer,
Which was a shame when we went to the soda shop
And everyone crossed the intersection
For a dollop of ice cream in their nearly-too-cold cup.
It tasted like it smelt,
And it smelt like walking on Pop-Pop's back
And brushing against his psoriasis
And not asking about the scar that ran up his spine.
Years later, I tried.
But the smell still smelt like
Lying in bed, shivering from the cream
That tried to help the knots in my shoulders
And the knives in my eyes.
So I settle for a Coca-Cola float
With a hot water bottle,
Washing down a pain pill cocktail.
It doesn't help.
The medicine, OTC, prescription,
Ice pack, hot pack,
Icy-hot in an A&W glass.
The braces just leave marks
And invite questions from those who only smell the wintergreen
Of some sort of pain-relief cream.
The Cure
It starts somewhere small.
Shoulder.
Elbow.
Waist.
It sneaks up, then sneaks along.
Flooding, burning, fingertips.
Doubled-over,
Palm pressed in orbit.
The pressure, the darkness,
Nothing helps.
Sleep?
Touch?
Solitude?
An endless cycle,
A never ending search.
This poem originally appeared in Juliette Sebock's chapbook, Mistakes Were Made (2017).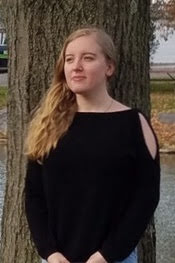 Juliette Sebock is a poet and writer born in small-town Pennsylvania. She loved writing from a young age but worked a variety of other jobs before settling on it as a career path. She graduated from Gettysburg College in 2018 with a B.A. in English and focuses in American and British history. After several years of undergraduate journalism and work with sources such as Her Campus Media and The Mighty, she turned her focus primarily to poetry, publishing the chapbook Mistakes Were Made in 2017. Currently, Juliette is working on lifestyle blog, For the Sake of Good Taste, as well as on a variety of poetry and prose pieces. When she isn't writing (and sometimes when she is), she can be found with a cup of coffee and her cat, Fitz.