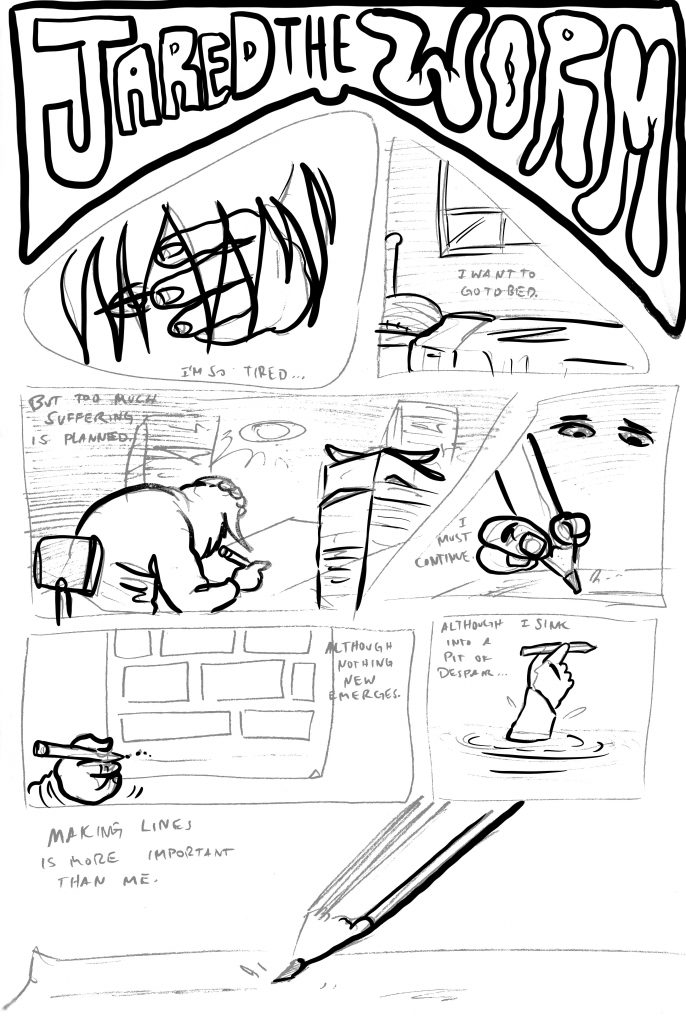 In this first black and white sketched comic titled "Jared the Worm," a man is hunched over a blank sheet of paper. The next two panels show him attempting to draw but not producing anything. The next panel shows a hand sticking out from underwater, holding a pencil. The last is a pencil drawing something on paper. The text on the panels read: "I'm so tired…I want to go to bed. But too much suffering is planned. I must continue. Although nothing new emerges. Although I sink into a pit of despair…Making lines is more important than me."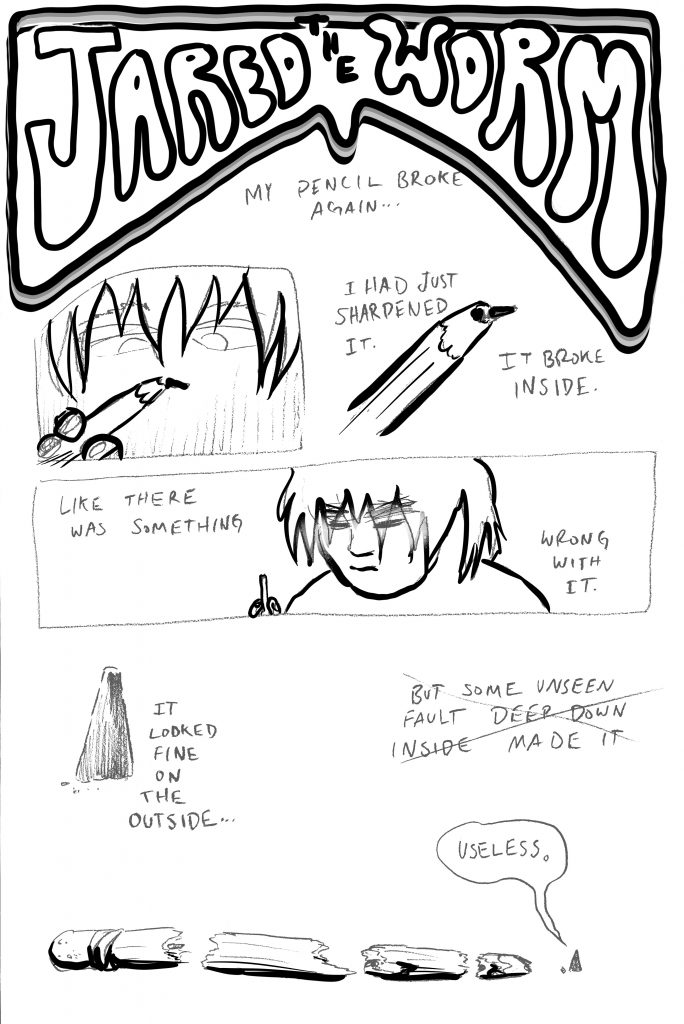 A man is shown looking at a pencil that broke while he was using it. The text reads: "My pencil broke again…I had just sharpened it. It broke inside. Like there was something wrong with it. It looks fine on the outside…But some unseen fault deep down inside made it [text crossed out]" and the final image shows a pencil broken in five pieces. The word "useless" has been drawn as a speech bubble above the tip.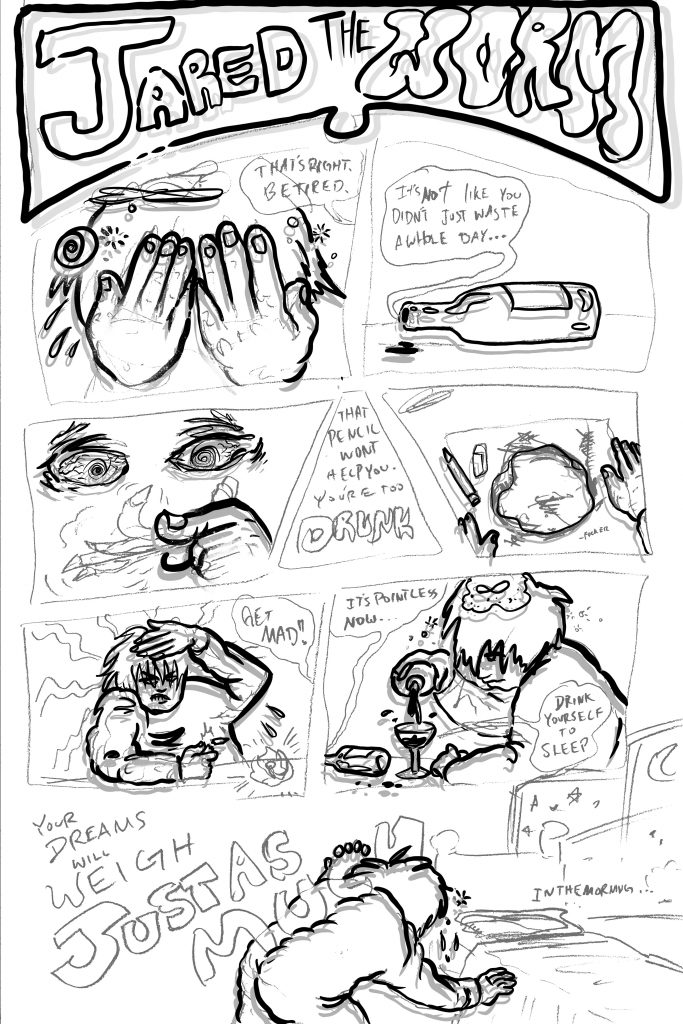 This comic is drawn in a layered, distorted style. A man is drinking alcohol while he attempts to draw. As he pours more drinks, he becomes more and more angry with himself. The text reads: "That's right. Be tired. It's not like you didn't just waste a whole day…That pencil won't help you. You're too drunk. Get mad!! It's pointless now… Drink yourself to sleep. Your dreams will weigh just as much in the morning!" The last panel shows the man crawling into bed.
Under the comic's title is a huge, bloodshot, tired-looking eyeball. A man stares pensively into the distance. The next panel shows him staring directly at the audience with a determined expression. The text reads: "I've gotta make my dreams happen. Get my priorities in order. Now's your chance…Don't fuck it up."
A man is seated at his original desk once again. He has a new pencil, a blank sheet of paper, and a hopeful expression. The text reads: "Finally…there is time. Time to draw all of my heart's desires." The last panel shows him looking out of the window. The pencil and blank sheet are lying on his desk.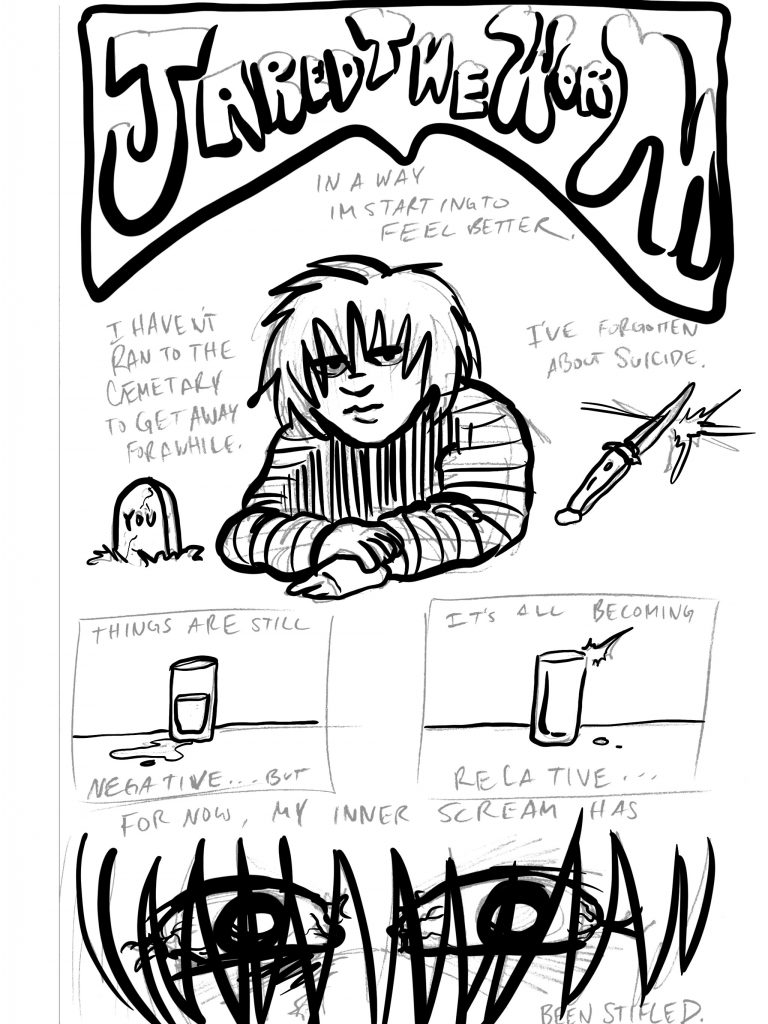 A man is sitting down and staring blankly ahead, flanked by a grave that says "YOU" on the left and a switchblade on the right. There's a half empty cup and a totally empty cup. The text reads: "In a way I'm starting to feel better. I haven't ran to the cemetery to get away for a while. I've forgotten about suicide. Things are still negative, but it's all become relative." The final panel shows an intense close up of the man's bloodshot, tired eyes covered by his hair. "For now, my inner scream has been stifled."
JTMB is a California-based artist who works as a painting instructor and moonlights as a cartoonist and animator. His comics are unflinchingly self-loathing, graphic, and honest. Most of his work remains unseen. His publications include: Ro84N: They're Putting Something in the Music: Chapter 1 (Aorta VI), The Humorless Joke: A Coolection (Breaktime Comics), and Jared the Worm Vol. 1 & 2 (Official Comics). He regularly grapples with depression and finds it best to do anything else. You can find him on Instagram @thehumorlessjoke.