(A painting of a woman with long brown hair wearing a red top. She has a red blindfold around her eyes. She is surrounded by butterflies against a yellow background. Her skin is covered in intricate patterns.)
Artist's Statement: 
The veil of ignorance can prevent us from knowing who we are. But we owe it to ourselves to explore our potential and seize our power. Though introspection can be difficult, it's necessary. This is not simply a call to action for reflecting on our errors. Of course we must recognize our mistakes and grow, but we must monitor our negative self-talk, too. We must reflect on our strengths and our ability to solve problems. It is not productive to blame ourselves for things that are not our fault. It also isn't productive to harp on past mistakes when we've apologized, rectified the situation, and learned to do better. I created "A Burst of Butterflies" to inspire viewers to consider the beauty of possibility. Sometimes darkness is all we can see, but that doesn't mean it is the only thing that lies ahead. We can achieve change if we are willing to use our imaginations and do the work.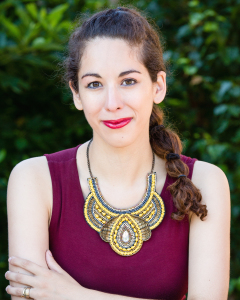 Christine Stoddard is a former Annmarie Sculpture Garden artist-in-residence and an M.F.A. DIAP candidate at the City College of New York (CUNY). Her work has appeared in special programs at the New York Transit Museum, the Queens Museum, the Poe Museum, and beyond. She also is the author of Water for the Cactus Woman (Spuyten Duyvil Publishing), among other titles, and the founder of Quail Bell Magazine. Born in Virginia to a Salvadoran mother and American father, Stoddard spent most of her early life in the Washington, D.C. area. Today she lives in Brooklyn with her husband/collaborator, David Fuchs.
SaveSave
SaveSave
SaveSave
SaveSave
SaveSave
SaveSave