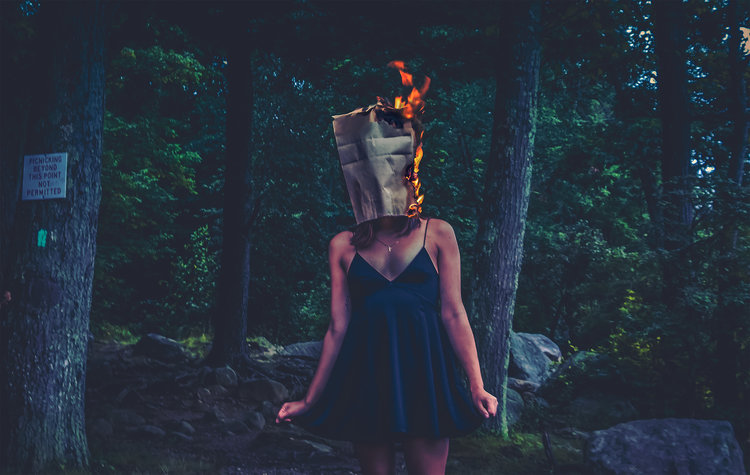 "Wrapped in Fire"
A girl standing in the woods in the center of the image with a paper bag over her head. The bag is on fire. This concept was first introduced to me by artists Kyle Thompson and Daniel Serva. I was able to work out the details and created this in my own style. This model and myself suffer from anxiety, and we both felt it portrays how anxiety can feel: smothering, hard to breathe, head racing, etc.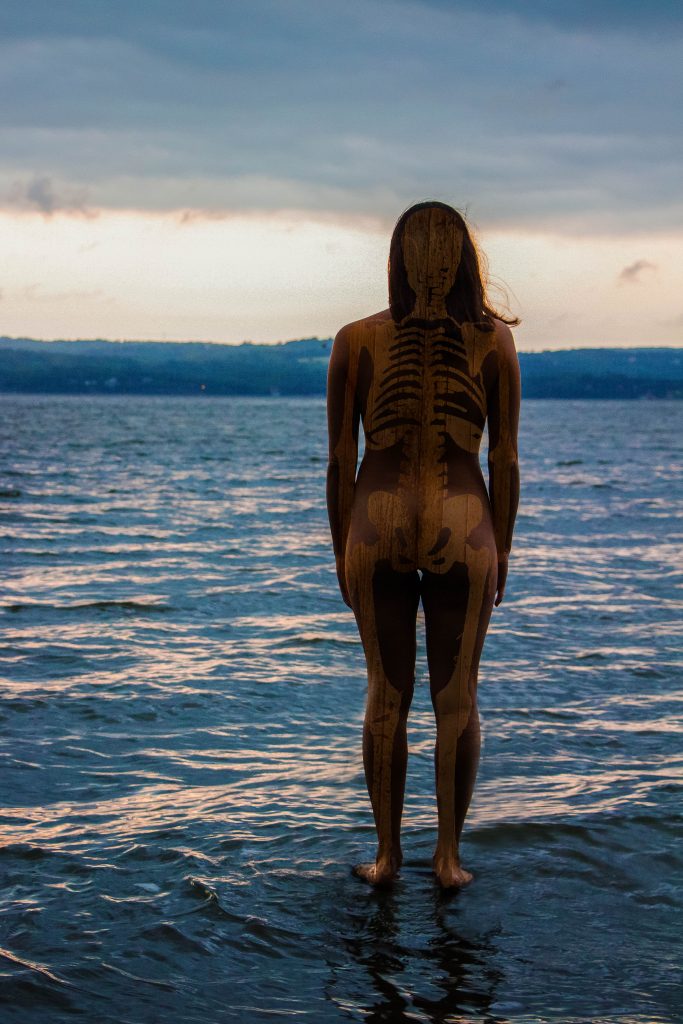 "The Creaking of Wood"
A naked woman standing on water, facing the horizon, with an overlay of a wooden skeleton over her body. The viewer might not notice immediately, but the skeleton in this image is wood. The photograph always makes me imagine the creaking sound a wooden ship makes when the wind blows. It's a lonely sound, playing off the loneliness and isolation of depression. The rest is up to the viewer's interpretation.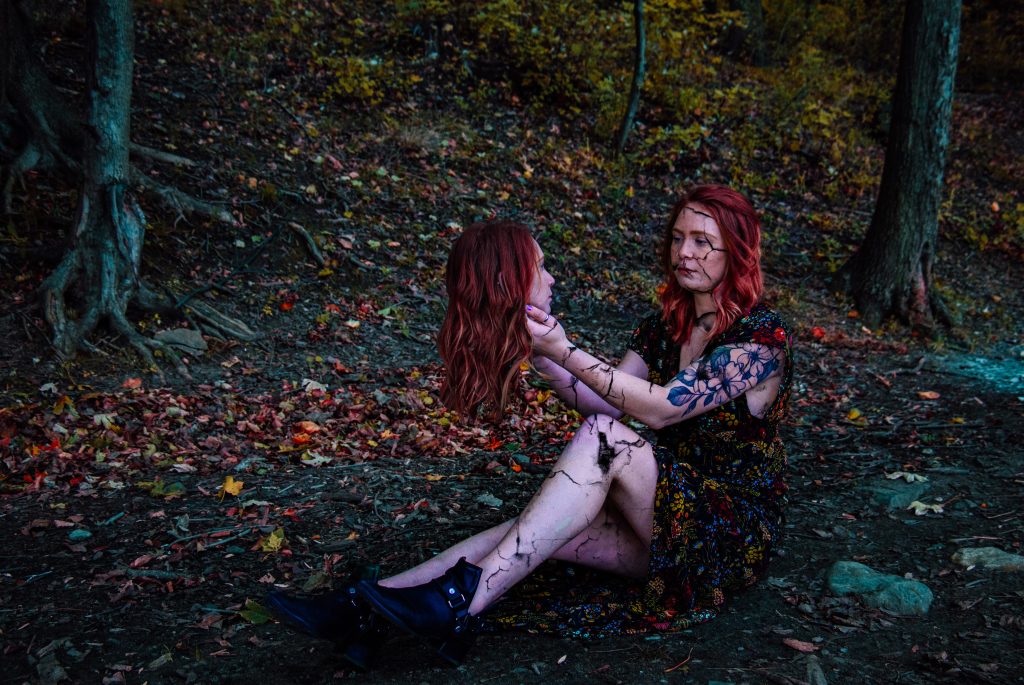 "A Crack In The Reflection"
A woman sitting in the woods with colorful leaves, holding what seems to be her own head. She has cracks in her body and face, but the head she is holding does not have any cracks. She is looking at the head she is holding. Self-reflection has always been difficult for me. Especially looking back on abuse, self harm, and other trauma. This piece was created to share the difficulty of those issues, as well as my experiences with healing from them and reflecting on myself.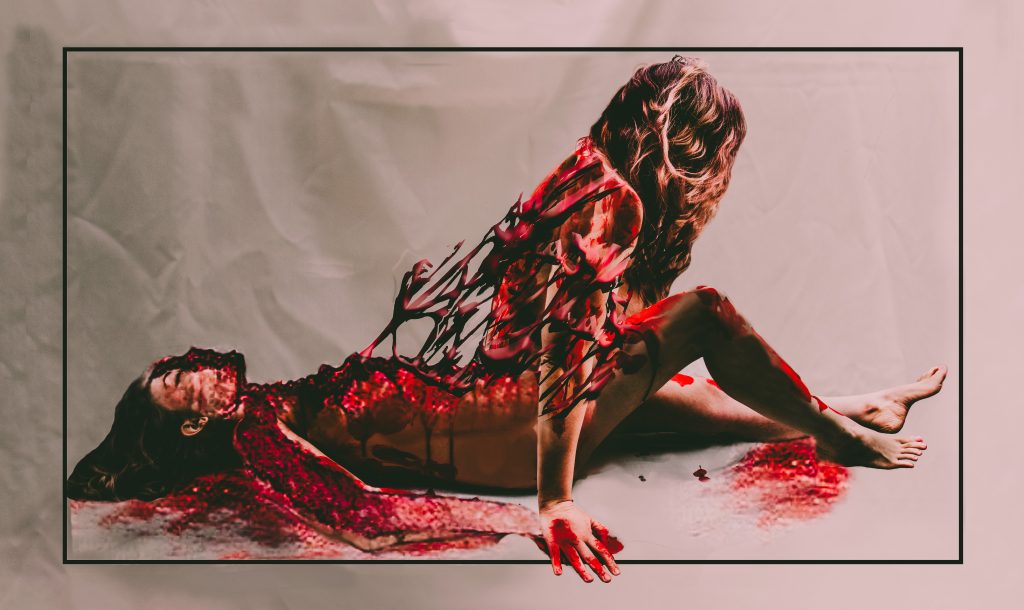 "Ripping Silence"
A person coming out of a bloody body, connected to the "corpse" by blood and ligaments. The woman "old" body is lying on the ground, while the "newer" version of herself sits up. Her face is not shown. This photograph is anything but silent, but depression can often be. The meaning behind this image is to visualize the deep pain that depression can cause. Depression isn't bloody or gory, but it can feel that way emotionally. Many people don't understand how deep and painful depression can be, so I wanted to create this to show people how it can feel. This image is someone leaving their depression…one way or another.
"Fragile Like a Vase"
Woman sitting in a green forest, clutching her chest. Her expression is sadness, release, pain. An overlay of a blue vase pattern covers her skin. Mental illness can leave people fragile like a glass vase. It makes you hard like glass, having dealt with pain, but fragile and you can shatter if dropped. The pain in the models face along with the pattern often seen on vases creates that visual story of fragility and sensitivity.
Artist's Statement
I create art to portray the visualization of how mental illness (and trauma, sexual assault, abuse, all of which have/had effects on mental illness) can feel. I take the deep feelings of sadness, loneliness, fading away and I put them into my work in hopes of creating pieces that others connect with. Ultimately, I strive to help people feel less alone and know that they are seen.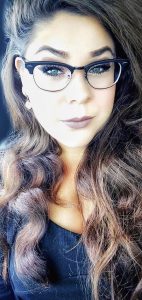 Rachel is a 26-year-old photographer/digital artist from New York. She first ventured into the world of photography during high school around age 16 and continued on from there. She studied both film and digital photography through college and learned how to navigate Photoshop and the Adobe suite. During college and in the past few years since graduating, Rachel has honed her skills to create surreal images that depict feelings that stem from abuse, trauma, and mental illness. Her goal is to work on large scale projects concerning these issues to help victims and raise awareness for these issues. Find out more at rachelsarawallachphotography.com and follow her on Instagram @RachelSaraWallachPhotography.