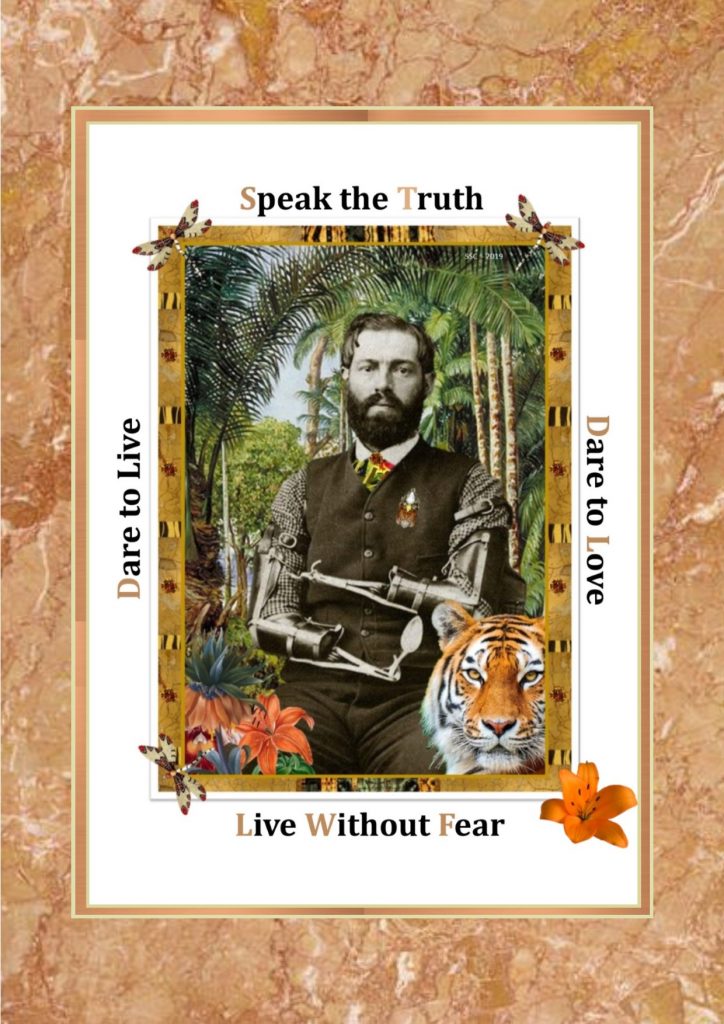 Image 1 – "Blood Brothers"
A man in Victorian dress, and with metal prosthetic arms, sits against a background of tropical vegetation and flowers. Beside him is a tiger. They both have similar challenging expressions on their faces. There are phrases which frame the central image – 'dare to live,' 'speak the truth,' 'dare to love,' 'live without fear.'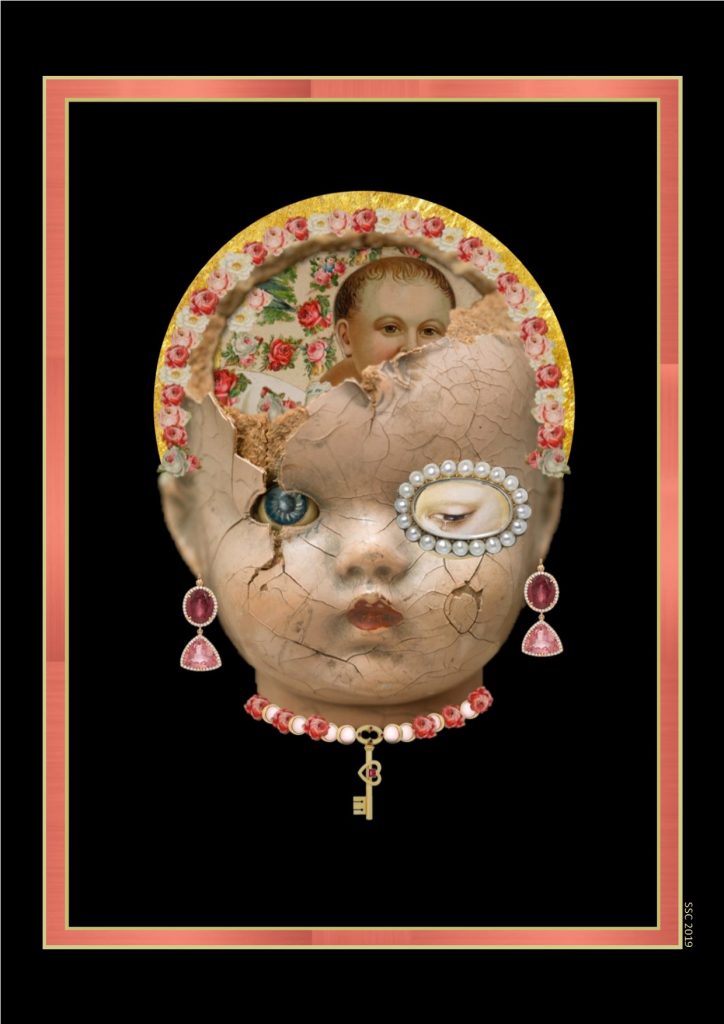 Image 2 – "Dollface"
The porcelain head of a doll stands out from a black background. The face is covered in tiny cracks and the top of the head is broken, revealing Victorian scrap paper and flowers inside. One of the doll's eyes is ringed with pearls. It wears drop earrings and a choker decorated with a gold key.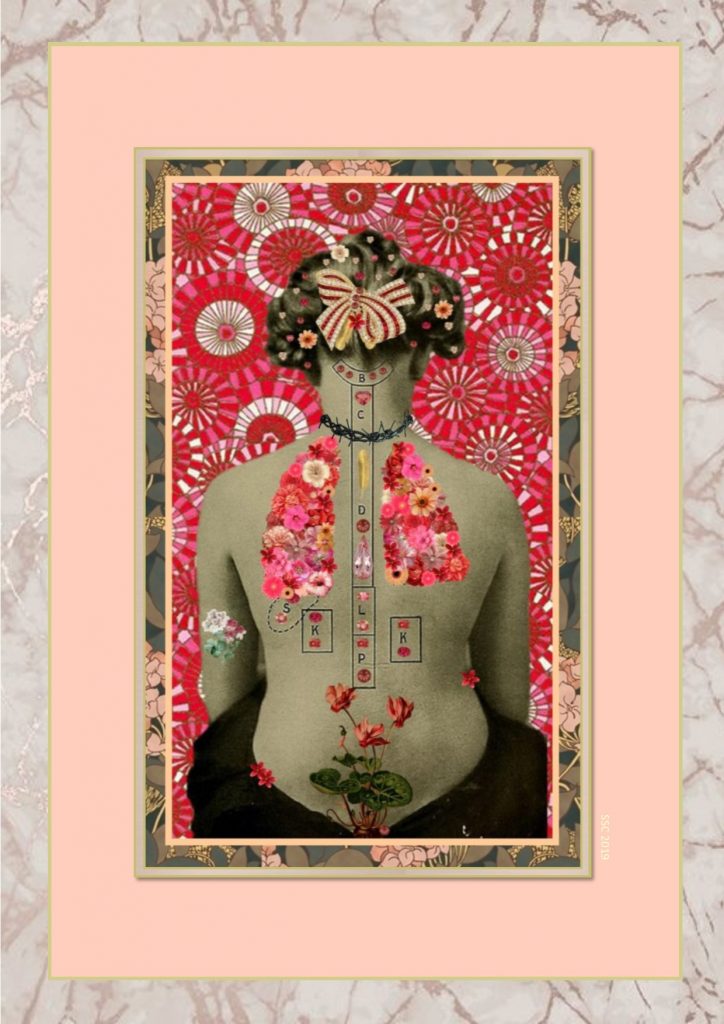 Image 3 – "Lungs"
A young woman, naked from the waist up, sits with her back to the viewer. Anatomical markings have been drawn on her skin. Her lungs are depicted by layers of red, pink, and peach flowers. She has a ruby and gold bow in her hair and a flower growing at the base of her spine.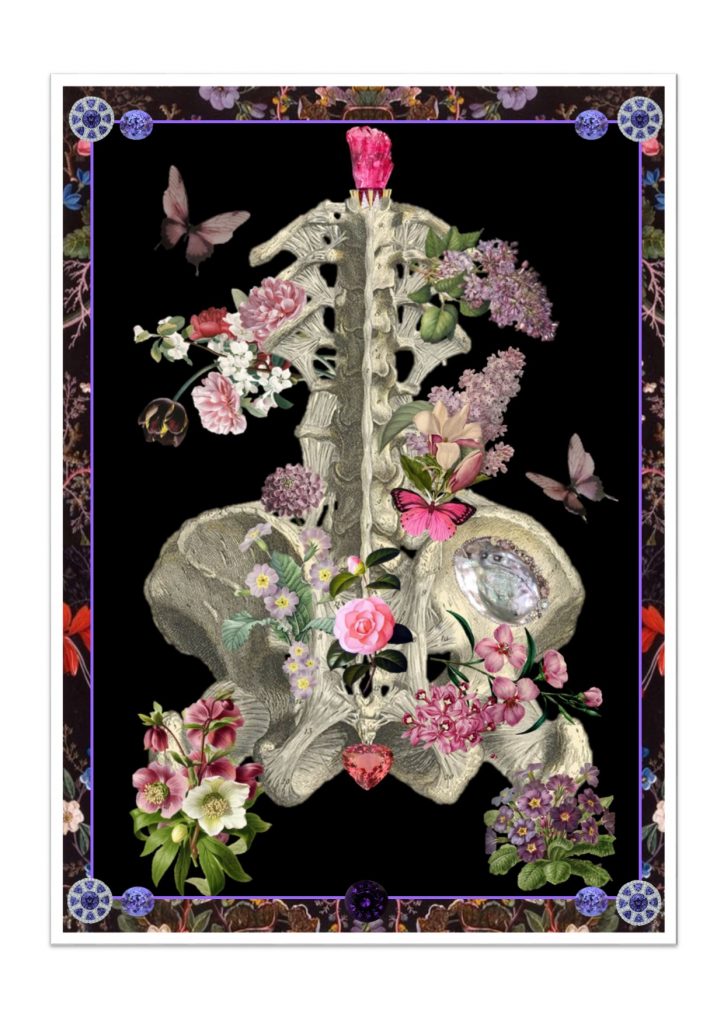 Image 4 – "The Anatomy Lesson"
A skeletal torso on a black background. The bones are decorated with pink and lilac flowers, gemstones, shells, and butterflies.
Image 5 – "The Lovers"
Two young women, one Albino and one with fair hair, sit together. They both wear Victorian costume and have flowers and jewels in their hair and on their dresses. Between them is a gold hourglass and a golden apple with a blemished centre. Hanging above them is a gold astrolabe. To the left of the frame is a black rat and to the right of the frame is a gold compass in a bright yellow case.
Artist's Statement
As a disabled artist, my aim is to bring vivid and strange imaginings to life.
Recently, I have been using a blend of collage and photomontage to create surreal artwork that encourages the viewer to think about difference and see beauty beyond the mainstream.
Each piece is constructed to challenge assumptions of 'reality' and convention.
Sasha Saben Callaghan is a writer and digital artist, living on the east coast of Scotland. She was a winner of the 2016 'A Public Space' Emerging Writer Fellowship and the 2019 Pen to Paper Awards. She was also longlisted for Penguin/Random House WriteNowLive 2018. Her poetry and short stories have been published in a wide range of magazines and journals including Ambit, La Lanterne Rouge and 404 Ink. Her illustrations have featured in three nation/international art shows during 2019. Sasha's lived experience of disability and impairment is a major influence on her work. You can follow her on Twitter and Instagram.